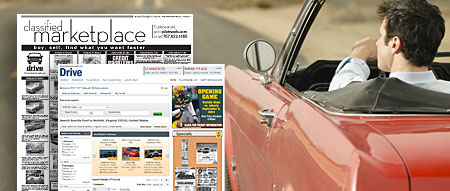 Is it time to sell your vehicle?
Over 80,000 SHR adults plan to buy a used car in the next 12 months so now is the time to list your vehicle.
Where should I list my vehicle?
88% of car shoppers use newspaper during the buying process.
The Virginian-Pilot brings over 300,000 buyers and sellers together every day.
With print and online bundles starting at $35, The Virginian-Pilot offers cost-effective solutions for you.
---
Use these tips to help sell your vehicle:

Prep Your Vehicle: detail the inside and clean your car's exterior. A low cost tip to add value to your vehicle.
Spruce Up The Engine: car dealers do it, it makes potential buyers more comfortable.
Do Your Research: use sites like Edmunds.com and kbb.com to research price and determine your car's value.
Put Details In Your Ad: be sure to list your vehicle's best features, condition, and mileage. Take advantage of the online bundle and add photos to your ad.
Source: Scarborough Research 2014, CNW Research 2012