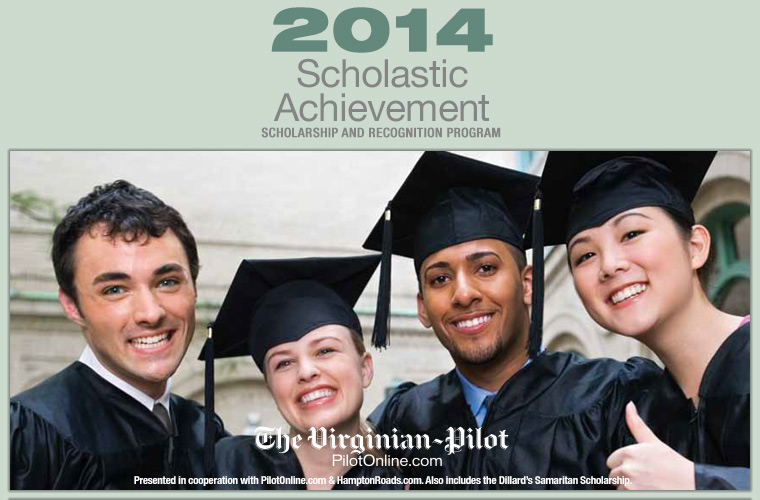 The Virginian-Pilot is proud to announce our 2014 scholarship finalists whose applications best demonstrate outstanding personal leadership, service and academic achievements! We received 53 eligible applications and here are the chosen finalists, their current schools and career aspirations:
Joseph Bedford
Norfolk Academy, Navy pilot and astronaut
Taylor Cecil
Manteo High School, Chemical engineer
Anna Chang
Bishop Sullivan Catholic High School, Scientific researcher/veterinary medicine
Kara Daniels
Indian River High School, Neurosurgeon
Rachel Fox
Broadwater Academy, Cardiologist or neurologist
Connor Graham
Hickory High School, Environmental lawyer
Naveen Iyer
Ocean Lakes High School, Chemical engineer
Myesha Jemison
Bayside High School, Doctor
Benjamin Littlejohn
Nansemond River High School, Mechanical engineer/military officer
Amy McMillen
Grassfield High School, Biomedical engineer
Ryan O'Malley
Great Bridge High School, US Naval officer/aerospace engineer
Lisa Trinh
Maury High School, Pharmacist
Each finalist will be interviewed on April 24th by a panel of judges. Three students will be awarded a total of $20,000 in scholarship funds by The Pilot. Additional scholarships to be awarded are from The Taste of India ($5,000) and Dillard's ($3,000). Newsroom staff are busy putting together the annual Scholastic Achievement and Recognition section which will publish Saturday, May 24th.
Upcoming Dates
April 24, 2014 - Interviews with Judges
May 24, 2014 - Scholastic Achievement section publishes in The Virginian-Pilot