By Philip Walzer
The Virginian-Pilot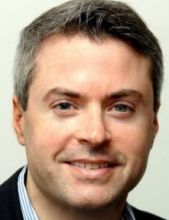 David Mele, the president and publisher of The Virginian-Pilot, will leave his position later this month to lead another division of the company that owns the newspaper.
Mele will become president of Norfolk-based Homes Media Solutions, which provides digital products and services to the real estate industry. Homes Media is a division of Dominion Enterprises, a subsidiary of Landmark Media Enterprises LLC in Norfolk, which publishes The Pilot.
The move was announced Monday by Jack Ross, president and chief operating officer of Landmark and Dominion Enterprises. Mele will take over Sept. 29, Ross said.
Homes Media is anchored by Homes.com, which provides real estate information including houses for sale and financing options. "The real estate space is really heating up with today's growth in the number of homebuyers and sellers who are using digital tools, and we plan to build the Homes.com brand to be an even stronger player in the market," Mele, 44, said.
Mike Abernathy, president of Landmark Publishing Group, based in Shelbyville, Ky., said in an email Monday that a new publisher for The Pilot has not yet been named.
Mele said his career switch was in keeping with Landmark's tradition of internal executive moves within the company. "It is a unique opportunity for Dave, who has the skill set needed for an important leadership position," Abernathy said.
Mele was appointed publisher in April 2012. He was previously general manager of Pilot Interactive, overseeing The Pilot's online and digital businesses.
"Dave is a talented senior executive with proven leadership skills, success in online/digital media operations and a strong intellect," Ross wrote in an email. "These attributes will serve him well for many years to come."
Mele, who lives in Norfolk, received a bachelor's degree in commerce and a master's in business administration from the University of Virginia.
Landmark executives have said they eventually intend to sell all of the company's properties. Rusty Friddell, executive vice president of Landmark Media Enterprises, said Monday that Landmark officials are not in talks with any potential buyers of The Pilot or Dominion Enterprises.
See story in The Virginian-Pilot in Business Day section, page 12 or online at PilotOnline.com