Thank you for participating in the first Pilot Art Outside the Box competiton. Enjoy looking at the boxes and learning more about the artists and their designs below. The boxes are on display at the Plot in Norfolk.
The Winners Stories  |  View the video.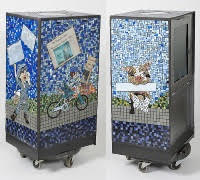 Mosaic Tile Box
First Place Winner
and Pilot Media Employee Choice Winner!
My thoughts and vision for this was to acknowledge the 150 Anniversary of the The Virginian Pilot by depicting in Mosaics, how the paper has been provided through the years. I felt it was fitting for a retired Newspaper Delivery Box. The descriptions for the 3 sides and top are: The Newsie holding the first edition of the paper, The boy on the bike with early morning deliveries, The happy and trained puppy bringing in the paper, PilotOnline.com with the Future Headlines. My up-cycling was to turn the Box into a Canvas for may work and a usable cabinet suitable many different uses. I hope you enjoy it.
By: Michelle Hatfield
---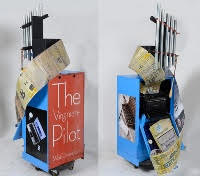 May Our Words Ring True
2nd Place Winner
My version of the newspaper box art piece was inspired by my interest in creating musical instruments from everyday objects, and the goal of celebrating the 150th year of the newspaper. Like all artists, I wanted my idea to be out of the box....so, out poured the paper from a vintage typewriter, out of the newspaper box, swirling around to highlight the sentiment "May our words ring true". This brought me back to sound....ringing....xylophone! I created the xylophone from electrical conduit, and tuned it to a haunting pentatonic scale, hopefully truthful in spirit. I encourage all to play it! I added some original photographs I set up to contrast the tools of the paper trade then and now for some supplemental interest. The title of the piece is "May Our Words Ring True".
By: Jim Knox
---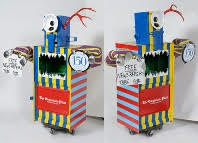 Top Story: One-Horned Monster Invades Hampton Roads
3rd Place Winner
As soon as I picked up my newspaper box for the contest, I immediately knew what I wanted to do with it. Just by looking at the box, it screamed "monster" to me. I set out to make a fun newspaper box. One that when people went past it, they would have no choice but to stop and look at it. I love to use bright, bold colors and I wanted to showcase that in my piece, along with my use of found objects, particularly utensils. I had so much fun making this piece and I can't wait to see it on the streets! Materials used: Wood, Acrylic Paint, Spray Paint, Silverware, Kitchen Utensils, Oven Burner Cover, Vent Pipes, Deer Horn.
By: Brandon Thompson
---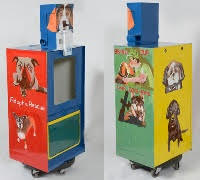 I'm calling it News Hounds. Not only do I paint (digitally) dog portraits and oil figure portraits but I am also a supporter of dog rights. The front portrait is a Beagle Hound (therefore the name) and other panels are: Bring our War Dogs Home Adopt a Rescue and the back are a couple of friend's best friends. As you can see I brush painted the entire box on my front porch. Thank you neighbors for your patience! I used enamel paint and mixed the primary colors + brown and white to come up with the palette of colors. No one told me that enamel on metal is a tricky process but I am happy to have completed the project.
By: Ally Cassoria
---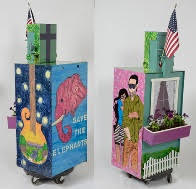 The art created on this box was inspired by my faith, my life and all the wonderful things taking place around me. With so much going on in the world today, it is easy to lose sight of the things that are truly important in life. It has been my goal for my family to cherish the moments that we spend together, instead of letting each day be whisked away by the mundane tasks of life. I transformed the front of the newspaper box into a humble place of habitation. "Home is wherever the people who loved you are, whenever you are together. Not a place, but a moment, and then another, building on each other like bricks to create a solid shelter that you take with you for your entire life, wherever you may go." –Sarah Dessen. One of the many places my family enjoys creating memories together is The Virginia Zoo in Norfolk. So, when I learned of plans to relocate the elephants, replacing them with rhinos, I was very disappointed. Despite the fact that I'll miss those magnificent animals, I support and appreciate the conservation work being done to protect these creatures from extinction. The pink elephant painted serves to commemorate our zoo's elephants Cita and Lisa. Music has no boundaries. It can always find a way into someone's heart. It is a force of unity. My wish for the world is to experience God's love and Bob Marley's classic, "One Love." "…Let's get together and feel alright!" My abstract guitar should evoke the pleasant feelings the gift of music produces. I painted a simple hug because hugs make us feel good for a reason, and it's not just the loving embrace that gives us that warm feeling in our hearts. It's much more. Hugs promote feelings of contentment, reducing anxiety and stress. It also lowers heart rate, elevates mood and creates happiness. Give someone a Hug!
By: Alecia Marfio
---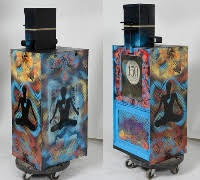 This project involved minor sanding, the application of enamel, and the use of vintage, hand crocheted placemats as templates. I chose the colors and concept, hoping to relay the importance of being in the moment, searching ones soul and celebrating the path. To often, we are caught up in the mundane daily grind. My hope is to relay a sense of peaceful beauty through this piece.
By: Shirley Cooper Sherron
---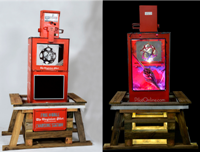 This Big Bright Green Charging Machine Dispenses Free Zenergy Take a seat next to this unique urban driftwood garden while you charge your mobile device and replenish your own zenergy. Powered entirely by the sun, The Big Bright Green Charging Machine is designed to provide a boost for people needing one, day or night. We pay homage to the box's original purpose of spreading the news by charging people's mobile devices (the way most of us get our news today). We've left the box's original red color and Pilot graphics in order to reintroduce this cultural icon back into the streetscape with new life and purpose. The piece and its components underscore our belief that at its best, repurposing combines elements of sustainability, creativity and practicality. So stop and enjoy our garden for a few minutes. Take a load off your feet and put a charge on your phone. The Big Bright Green Charging Machine dispenses free zenergy.
By Team: Lauren Consoli (LC727), John Wharton (Glass Gardens), Beau Turner (757Makerspace), Akin Yildiz, Victor Norman, George Arbogust (Domestic Good)
---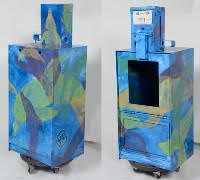 After being selected for the Pilot Art Outside the Box contest, I knew that this box needed to be covered in dolphins! They represent the carefree, fun-seeking nature of our city and region. Intelligent, playful, free. I wanted to keep the dolphins transparent and loose to encourage viewers to interpret and fill in the blanks. I hope those who look at this feel relaxed, playful, uplifted and free. Remember, a bad day in the water is better than a good day at work! Happy Birthday to The Virginian-Pilot! Thank you for the opportunity to reach out to the public through art.
By: Maggie Lina Kerrigan
---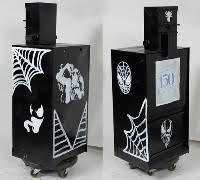 I find myself to be a big fan of Marvel superheroes with Spider-Man being my most favorite of heroes. In this project, I wanted to be able to incorporate my love for the hero along with my sense of artistry. One of Spider-Man's biggest villains is the creature known as Venom, that was basically a living spider suit, and I find their rivalry to be one of the most important in the comics. Spider-Man at one point in time was wearing Venom and found out the evil that Venom is and takes the suit off. I wanted to be able to incorporate the two sides on the box and be able to show this struggle between the two. Minimalism is the type of art that interests me the most and I wanted to be able to use this form of style on the box. On the front of the box, we can see the faces of Spider-Man and Venom together showing the closeness of the two and shows the corresponding side of each character. On these corresponding sides each character has, I wanted to show them in a way that keeps to the theme of Minimalism and found the simplicity in the work interesting. On the base as the finale, I wanted to show their closeness again back to when Spider-Man wore Venom where he struggled against Venom. Spider-Man is one of my all-time favorite characters and I wanted to bring him into this project through the use of my favorite technique of art.
By: Josh Begley
---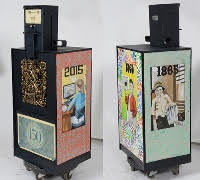 My paper box represents "HOW" the news has been delivered to us over 150 years. There are three panels that each depicts the way newspapers were delivered. The first panel is a scene from 1865, the second 1969, and the third 2011. The surrounding border of each scene is indicative of the design elements of that time period. The headlines on each paper are famous news events from that year. The front panel, much like the news, is a compilation of the mundane and spectacular. I find everyday objects and amazing natural objects and I hand mold them. Then I cast them and create art with them. They are a wealth of intricate textures that make a beautiful panel. They are painted and waxed with gold gilding wax. The bottom panel is the 150th Pilot logo- embedded in a "sea" of blue metallic plaster as a nod to our home here by the ocean. I hope you enjoy looking at this box.
By: Marian Buis
---