Beginning June 16, the Main News and Hampton Roads sections will be combined every day. But you will not lose one word of local news. On some days, there will actually be more space for news. There also will be more color in the combined section. Page 3 and the business page will be color every day. So the Hampton Roads section goes away, but the news does not. How is that possible? A one-section approach allows us to put the available space to better use. We are moving our local news report to the front of the section, followed by national and global news, obits, business and opinion. We hope you understand the changes and give them a chance. By moving local news forward, we've emphasized what's most important to you. As always, thank you for reading The Pilot.
June 16th Edition of The Virginian-Pilot: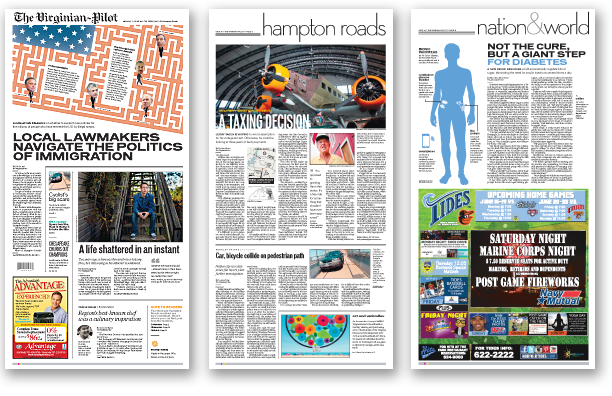 Q: What's changing?
A: The Pilot is combining the Main News (front section) and Hampton Roads sections into one news section that will contain local, national and international news, along with Obituaries and Opinion.
Q: What are the benefits of the Main News/Hampton Roads combination?
A: There are many:
The space will be bigger for news on some days.
There will be more color pages.
There's more flexibility. If on one day there is a lot of local news, more space can be dedicated to it. Likewise, if there is a big national/international news day more space can be dedicated to that news.
Local news will be at the front of the section, putting emphasis on what readers have told us is most important to them.
Q: But aren't you publishing less news?
A: No. We're being more efficient in how we package the news. We are confident that we can actually fit MORE local news into the newspaper with this configuration on most days.
Q: What are the potential concerns for readers?
A: There are just two primary ones:
The OpEd page (the Other Views page opposite the Opinion page) goes away Monday-Saturday. However, we will seek to preserve the best of the local and national columnists that appeared on it. We expect on most days to publish one local editorial, letters, a cartoon and one additional columnist on the Opinion page. We are keeping Sunday Forum at three pages, including an OpEd page, so that gives us another opportunity to publish local and national columnists. We also plan to run local and national columnists on page 2 of the newspaper, along with Pilot columnists Roger Chesley and Kerry Dougherty.
We are breaking a long-held tradition. We are not taking this lightly. Readers like you have habits that you hold dear. One of them is taking the paper apart in the morning and sharing the sections. We understand that, and we hope that you will make the adjustment to reading the paper with this new combined news section. The Sports and Daily Break sections will remain separate, and Sunday will continue to have the addition of the Business Section and our City Zoned Editions (Beacon, Clipper, Compass, Currents and Sun).
Q: Will the front page change?
A: No. The front page will continue to present the most important, interesting and impactful news stories of the day, with a heavy focus on local news.
Q. Did you consult with readers about this?
A: Yes, we did. We surveyed a panel of 500 readers, conducted in-person focus groups with smaller groups of readers, and also brought in groups of local community leaders and advertisers to get their feedback. It was nearly all positive and many asked why we hadn't done this before.
On average, nearly 300,000 adults in South Hampton Roads read The Virginian-Pilot on a daily basis, with more than 400,000 readers on Sunday. Our mission is clear: to inform, inspire and improve the communities we serve. Our responsibility to report the news accurately and fairly, and to hold public officials accountable has never been greater. Thank you for your continued readership and we look forward to serving you. If you have any questions or comments, feel free to contact us.