CareerConnection's Skilled Trades Career Fair 
Wednesday, March 18th from 10 a.m. - 2 p.m.
Constant Convocation Center, ODU, 4320 Hampton Blvd, Norfolk, VA
This event will feature Employers seeking candidates for employment with a full range of work experience, from unskilled to skilled labor backgrounds, as well as educational institutions with programs to prepare you for a career in skilled trades. Free parking onsite. Bring plenty of resumes and dress to impress.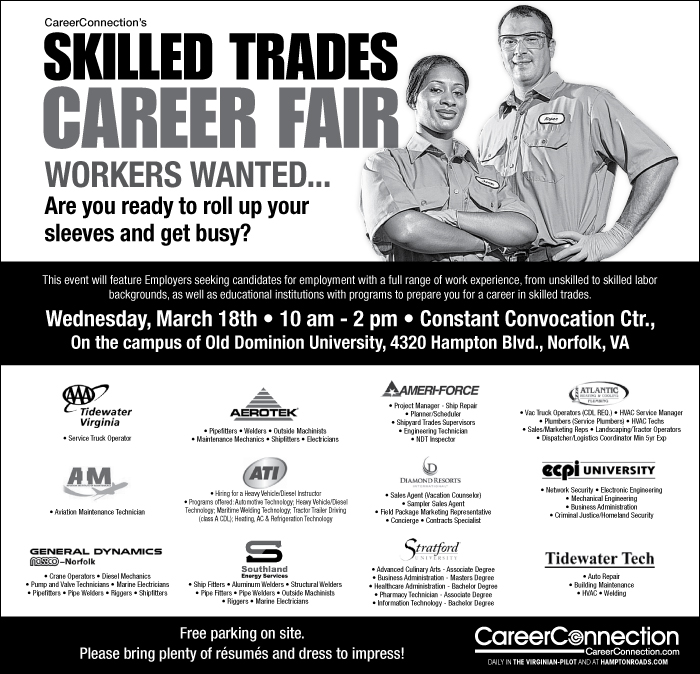 AAA Tidewater: Service Truck Operator
AEROTEK: Pipefitters, Welders, Outside Machinists, Maintenance Mechanics, Shipfitters, Electricians
Ameri-Force: Project Manager - Ship Repair, Planner/Scheduler, Shipyard Trades Supervisors, Engineering Technician, NDT Inspector
Atlantic Heating & Cooling: Vac Truck Operators (CDL REQ.), HVAC Service Manager, Plumbers (Service Plumbers), HVAC Techs, Sales/Marketing Reps, Landscaping/Tractor Operators, Dispatcher/Logistics Coordinator Min 5yr Exp
AIM: Aviation Maintenance Technician
ATI: Hiring for a Heavy Vehicle/Diesel Instructor, Programs offered: Automotive Technology; Heavy Vehicle/Diesel Technology; Maritime Welding Technology; Tractor Trailer Driving (class A CDL); Heating, AC & Refrigeration Technology
Diamond Resorts:  Sales Agent (Vacation Counselor), Sampler Sales Agent, Field Package Marketing Representative, Concierge, Contracts Specialist
ecpi University: Network Security, Electronic Engineering, Mechanical Engineering, Business Administration, Criminal Justice/Homeland Security
General Dynamics: Crane Operators, Diesel Mechanics, Pump and Valve Technicians, Marine Electricians, Pipefitters, Pipe Welders, Riggers, Shipfitters
Southland Energy Services: Ship Fitters, Aluminum Welders, Structural Welders, Pipe Fitters, Pipe Welders, Outside Machinists, Riggers, Marine Electricians
Stratford Universtiy: Advanced Culinary Arts - Associate Degree, Business Administration - Masters Degree, Healthcare Administration - Bachelor Degree, Pharmacy Technician - Associate Degree, Information Technology - Bachelor Degree
Tidewater Tech: Auto Repair, Building Maintenance, HVAC, Welding