End the summer with a new career!
8th Annual Diversity Career Fair
Wednesday, Aug 12th from 10am to 2pm
Constant Convocation Center, Norfolk
Embracing the importance of diversity in the workplace, CareerConnection will host its 9th Annual Diversity Career Fair.
Bring your resume and dress for success to meet some of the area's top employers.
Latest updates on Facebook.
Visit CareerConnection.com.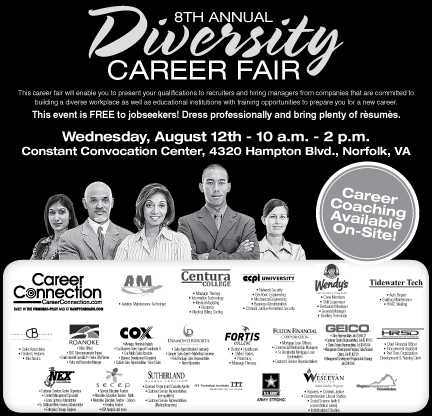 Participating Employers:
Diamond Resorts International
SECEP
GEICO
Centura College
Aviation Institute of Maintenance
Charles Barker Automotive
Tidewater Tech
ECPI University
United States Army Recruiting
Cox Communications
Navy Exchange Service Command (NEXCOM)
Virginia Employment Commission
HRSD Hampton Roads Sanitation District
Fortis College
The Wendy's Company
ITT Technical Institute
City of Roanoke / Roanoke Police Department
Sutherland Global Services
Fulton Financial Corporation
Virginia Wesleyan College Adult Studies Program